Wigilia - My Christmas Eve growing up.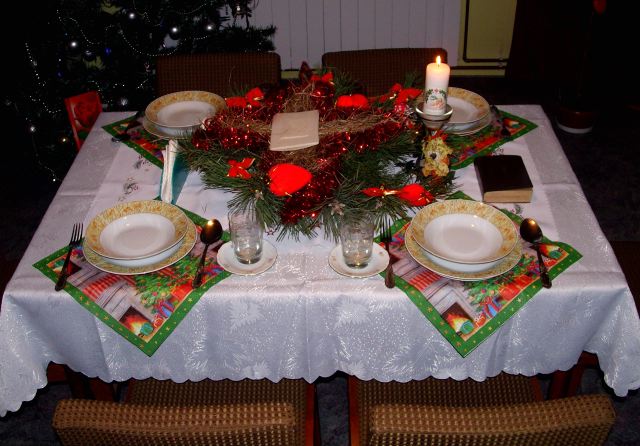 Being all grown up now and understanding more about my Polish heritage, I look back at how Christmas was celebrated in my home when I was young. I realize now that we were celebrating Wigilia on Christmas Eve, although variations had been made from the original Polish celebration.
Christmas Eve Day was just as important as Christmas Day. In the afternoon we would watch Scrooge with Alistar Sim (Still my favorite version) My mom was getting the dinner table set up. It was decorated beautifully with the Advent Wreath as the centerpiece. All four candles in the wreath would be lit along with a candle at each place setting when dinnertime came. Each of us kids had a candle with Santa Claus or Frosty the Snowman and the like.
The evening began with the family going to evening mass, as we were to young to be able to stay up for midnight mass. After midnight mass my father would stop at a local restaurant to pick up fish for dinner. Phil Rohr the owner would stay at the restaurant until my father would pick up the prepared fish. I am not a fish person, but as long as the fish was breaded well and there was enough tartar sauce, I would eat it. There was also french fries and coleslaw and the like.
After we ate our dinner by candlelight, my father would take out the bible and read about the birth of christ. After that we would line up and have a small procession into the livingroom. My little brother would carry baby Jesus and my sister carried a candle to light the way while we sang "Silent Night". Baby Jesus was then placed in the Manger in our Nativity scene.
After baby Jesus was placed, it was time to light up the tree. My other brother would hit the switch to turn on the lights as we sang "Oh Christmas Tree". To complete our ceremonies, I would touch the angel on the top of the tree to simulate putting the angel on the tree top and we sang "Angels We Have Heard On High".
Once all the ceremony was complete we opened gifts from each other. Opening gifts from each other on Christmas Eve was a tradition that came from my mothers side of the family. Presents from Santa Clause were opened on Christmas Day.