Searching for Firkowskis!
Review - Avery Printable Tabs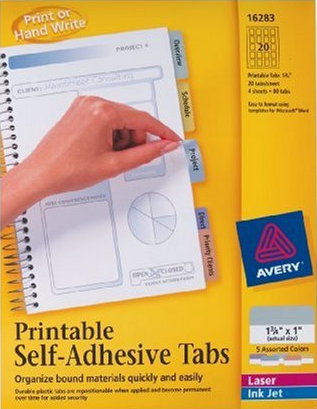 Keeping organized during your genealogical research process is a must. When I started my personal genealogy research, I was not very organized and it bit me in the ass later on. There are still aspects of my personal research that I must go back and fix. I have many binders and spiral notebooks that I use for client research and just keeping my office organized. I have used tabbed dividers quite often for binders, but have not had that ability for smaller spiral notebooks. I searched online for a solution & came upon some
printable tabs made by Avery
& they turned out to be EXACTLY what I was looking for. I would highly recommend
these
to help you with organizing your research. It is much better to organize your genealogy research when you start than to have to try and do it later.
The labels are laid out on a standard 8 1/2" x 11" sheet of paper and are made of a thin but strong plastic. The
tabs
have two printable sides... one for each side of the tab. After printing you just fold over the tab so it sticks to itself. The part that sticks to the page is made of a self adhesive that has the ability to be removed and repositioned as needed, but is strong enough to stay in place during its use as you flip through pages that have the tabs on them.
The
printable tabs
are available in two sizes - 1 1/4" & 1 3/4". I chose the larger as it was going to work better for my needs. If color is not your thing, they do have plain white available. The plain white ones may work for you if you want to create the colored backgrounds you want for your tabs.
Avery has some downloadable templates for you to use & I chose to download the WORD version. As it turned out the template was a joke and I could not get my text laid out like I wanted so I created my own template in WORD. It is not that difficult to make your own label template if you, but I had to use some tricks to get it like I wanted.
Avery does also have a service that will allow you to design & print what you want right from their website, but for reasons of my own, I did not use that service, so you do have this option.
Avery has only one color combination for their set of
printable tabs
& although nice, it would be great to have a more colorful selection. Despite the strange colors available, the
printable tabs
did a fantastic job of helping me access the pages in my small notebook. I bought mine at $7.71 for a package of 80 (20 tabs / sheet) I saw today they have them priced for $6.42 for the same size.
I have included a photo of one of the spiral notebooks that I used these printable tabs on.